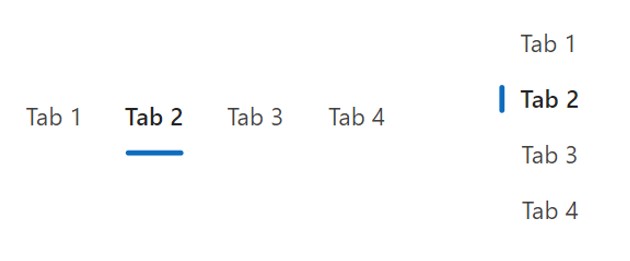 Purpose
A Power Apps tab list control displays a set of tabs, each representing a different section or page within an app. Its purpose is to allow users to easily navigate between related content and switch between different views or modes.

Properties
AccessibleLabel
Screen readers will voice this text when a user selects the control
Alignment
Sets the tab bar orientation from left-to-right or from up-to-down

Options:

= "Horizontal"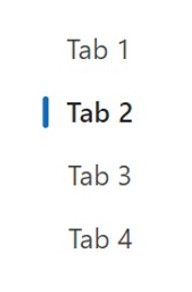 = "Vertical"



ContentLanguage
Describes the language used to the audience (e.g. "en-US")
DefaultSelectedItems
Initial values displayed in the control before the user interacts with it
DisplayMode
Selects the mode: Edit, View or Disabled. In Edit mode the user can input values. In View mode the user can only see the values and in Disabled mode the control is greyed-out.
Height
Distance from the top of the control to the bottom
Items
Table containing values displayed inside the radio group

Example:
["Tab 1", "Tab 2", "Tab 3", "Tab 4"]
OnChange
Actions that will be executed when the Value property of the checkbox changes
OnSelect
Actions that will be executed when the radio group is pressed.
Render Size
Determines the tab bar control size

Options:
= "Small"
= "Medium"
= "Large"
Visible
Determines whether to show or hide the control
Width
Distance from the left side of the control to the right side
X
Distance from the left edge of the screen to the left side of the control
Y
Distance from the top edge of the screen to the top of the control



How To Use The Power Apps Tab List Control
1. Select the Tab List control in Power Apps studio. Create tabs by updating the Items property with a single column list.
["All", "Submitted", "Accepted", "Rejected"]



2. Set the Default property of the control to determine the initial tab being displayed


"All"

3. Get the tab list's current value by using this code.

TabListCanvas1.Selected.Value


Did You Enjoy This Article? 😺
Subscribe to get new Power Apps articles sent to your inbox each week for FREE




Questions?
If you have any questions or feedback about Power Apps Tab List – Modern Controls please leave a message in the comments section below. You can post using your email address and are not required to create an account to join the discussion.