Welcome to the Complete Power Apps Modern Controls Guide
On this page you will find documentation on how to use all 13 of the Power Apps Modern controls. Every modern control property is described to tell you how it works. You'll also find handy usage tips.

Why did I create this guide?
The official documentation for each Power Apps modern control is not finished yet and I wanted a reference right now.
I like documentation with lots of pictures to show what changing control's properties actually does
As the modern controls library expands I can give my own commentary on proper usage and limitations

I hope you enjoy the Complete Power Apps Modern Controls Guide


List Of Power Apps Modern Controls

| | |
| --- | --- |
| Badge | Display short items of information, such as a person's initials or a status indicator. |
| Button | Triggers an action when clicked or tapped |
| Checkbox | Allows the user to select one or more options from a list of choices. |
| Date Picker | Enables the user to select a date from a calendar. |
| Dropdown | Allows users to select one option from a list of predefined options by clicking or tapping on a downward arrow. |
| Info Button | Provides additional information or context about a particular feature, field or setting within an app |
| Link | Clickable element that redirects users to a web page |
| Progress Bar | Visual representation of the completion status of a task or process. |
| Radio Group | Allows users to select one option from a set of mutually exclusive options. |
| Spinner | Visual element that indicates to the user that content is being loaded or processed. |
| Tab List | Displays a set of tabs, each representing a different section or page within an app. |
| Text Input | Lets users enter text or data into a form or field. |
| Text | Displays descriptive text or instructions for other user interface components. |



Enable Power Apps Modern Controls
Power Apps Modern Controls are not turned on in studio mode by default. Go the Settings menu > Upcoming Features and then toggle on the feature named Try out the modern controls.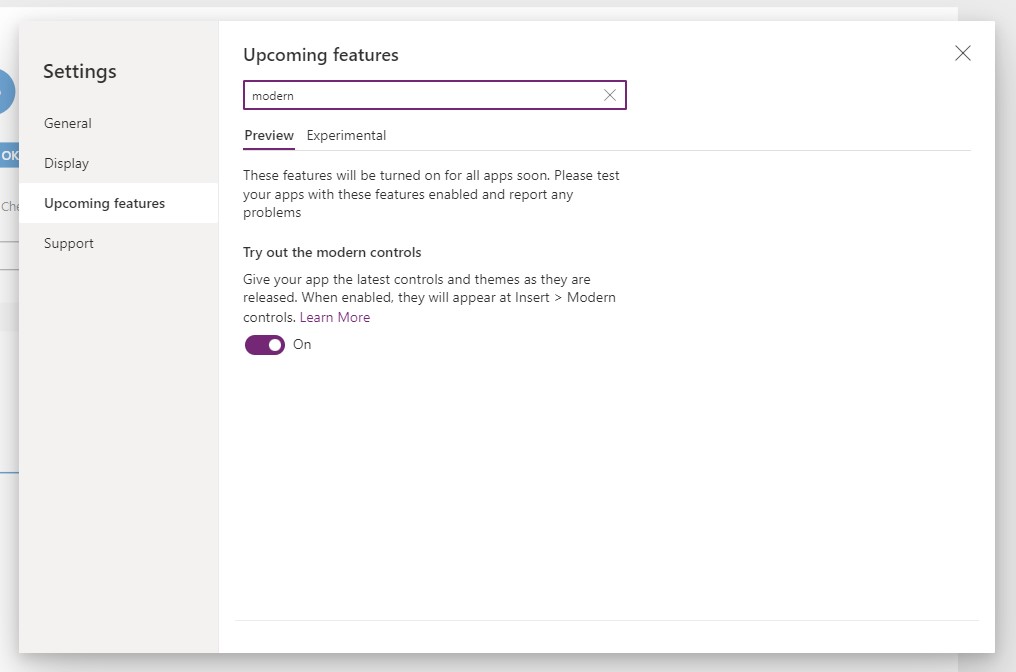 Did You Enjoy This Article? 😺
Subscribe to get new Power Apps articles sent to your inbox each week for FREE




Questions?
If you have any questions or feedback about The Complete Power Apps Modern Controls Guide please leave a message in the comments section below. You can post using your email address and are not required to create an account to join the discussion.