Goal
Upload a file called mole-picture.jpg to the AnimalImages field.



Input
Animal Pictures (SharePoint List)
| | | |
| --- | --- | --- |
| ID | Description | AnimalImages |
| 1 | A picture of a mole | |


Patch Function Code
An image cannot be patched to Power Apps. Instead, create a new Edit Form with 'Animal Pictures' as the datasource. Delete all controls inside it except the attachments field.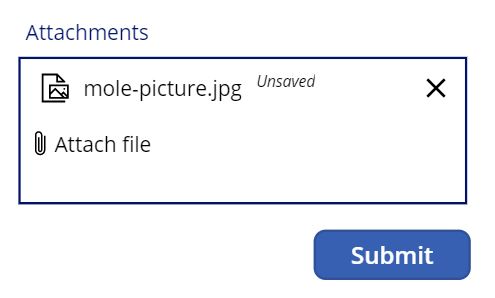 Then put this code in the item property of the form to load record 1.
LookUp('Animal Images', ID=1)


And use this code in the OnSelect property of the button to submit the form.
SubmitForm(Form_AnimalPictures);


Output
Animal Pictures (SharePoint List)
| | | |
| --- | --- | --- |
| ID | Description | AnimalImages |
| 1 | A picture of a mole | mole-picture.jpg |